BAS Operations Management - OPS100
Welcome to BAS Operations Management: A Course for Engineers and Facility Managers - your one-stop solution for mastering the art of Building Automation Systems (BAS) and effective facility management.
Price
$1,250.00
Price
$1,300.00
Details
Unlock the Power of Your Building: "BAS Operations Management: A Course for Engineers and Facility Managers"
Are you ready to take your building operations to the next level?
Welcome to BAS Operations Management: A Course for Engineers and Facility Managers - your one-stop solution for mastering the art of Building Automation Systems (BAS) and effective facility management.
Engineered with building operators, engineers, and facilities teams in mind, this course is designed to transform you into a BAS superstar, capable of not only reducing operational costs but also increasing self-sufficiency and building efficiency.
Why Choose This Course?
Comprehensive Curriculum: Dive deep into BAS - from understanding user interfaces to mastering backup procedures. Learn how to make the most of your BAS, understand trends, alarms, and reports, and navigate through different types of graphics.
Maintenance Mastery: Become the master of your building's health. Learn how to create a maintenance schedule, clean up unused files, verify device communication, and perform physical checkouts.
Service Management Expertise: Get insights into service management best practices and understand how to set up an efficient triage process.
Energy Management: Gain a solid understanding of energy management, metering, and building load calculations, all aimed at optimizing your building's energy usage.
What Will You Achieve?
Reduced Operational Costs: By optimizing building operations, you will see a noticeable reduction in your operational costs - making your budget stretch further.
Increased Self-sufficiency: The comprehensive knowledge you'll gain will equip you to handle more tasks in-house, reducing your reliance on external contractors.
Decreased Downtime: Learn how to prevent issues before they become problems, ensuring your systems stay up and running for longer.
Improved Building Efficiency: Implement strategies for effective energy management and optimal system operations, resulting in a more efficient and sustainable building.
Enhanced Troubleshooting Skills: Get to grips with BAS alarms, trends, and reports, allowing for better diagnostics and faster resolution of issues.
Superior Service Management: Understand and implement the best practices in service management, leading to higher tenant satisfaction rates.
What Makes Us Different?
Our course is delivered in an accessible, conversational style, ensuring that even the most complex concepts are easy to understand and apply. We believe in making learning enjoyable and effective, which is why we've chosen this approach.
So, are you ready to unlock the full potential of your building? Join us on this journey and transform the way you manage your facility operations. Enroll in our course today and start making a real difference to your building operations!
Licensing
All sales are final and non-refundable. All licenses are for one (1) individual and are non-transferable without the express written permission of Smart Buildings Academy, LLC. Invoices are to be paid within 10 days (NET 10) of receipt. Course enrollments are for one (1) year unless otherwise specified.
Requirements
If there are technical problems with our systems, please contact our support team at support@smartbuildingsacademy.com for assistance.
If there are technical problems with your computer or Internet connectivity, we are unable to assist you..
It is the student's responsibility to be technologically capable of taking an online course, i.e. you should be computer literate and Internet experienced.
Since your course will be accessed through your computer and Internet connection, it is important that you have the proper computer configuration. Outlined below are the basic technical requirements (minimum and recommended) for participation in an online course.
Some online courses will have additional technical requirements - please check the individual course link (see course schedule) or contact the instructor for details.
Moodle Technical Requirements
Moodle is compatible with most modern PCs and Macs, and many Mobile devices as well. The most important thing to ensure compatibility is that you keep your browser updated.
PCs and Macs
For PCs and Macs, Moodle recommends using the newest version available of the following browsers:
Chrome – download here
Firefox – download here
Cookies and JavaScript must be enabled in your browser for Moodle to function properly.
Mobile Devices 
For mobile devices it is recommended to use your device's native browser. Also, when accessing Moodle from a Mobile device, keep in mind that some features may not function correctly. It is not advised to take exams or quizzes or to submit homework from a mobile device.
You can not add the review on this product as you have not purchased this product yet.
Question: Question: How long do I have access to the course?
Answer:
Upon receiving your login credentials, you have 365 days of access to the course.
Question: Question: What happens after I purchase the course?
Answer:
Upon registering for one of our training programs our support team will contact you to setup your training account.
Once you are in the course you will find a guided course workbook that will guide you through the lessons.
You will have access to online forums and weekly office hours during which you can ask questions of your instructor.
To earn your course certificate, you will need to view all lessons, complete module quizzes, and the final course exam.
Question: Question: How do I get help if I don't understand something?
Answer:
If you have any technical challenges with our course, you can contact our technical support team via the contact information you will receive when you receive your welcome email.

If you have questions related to what you are learning in the course. You can use our course forums, where we will respond within 24 business hours or via our live instructor led office hours, which occur 3 days a week.
0

% response rate,

0

-mins response time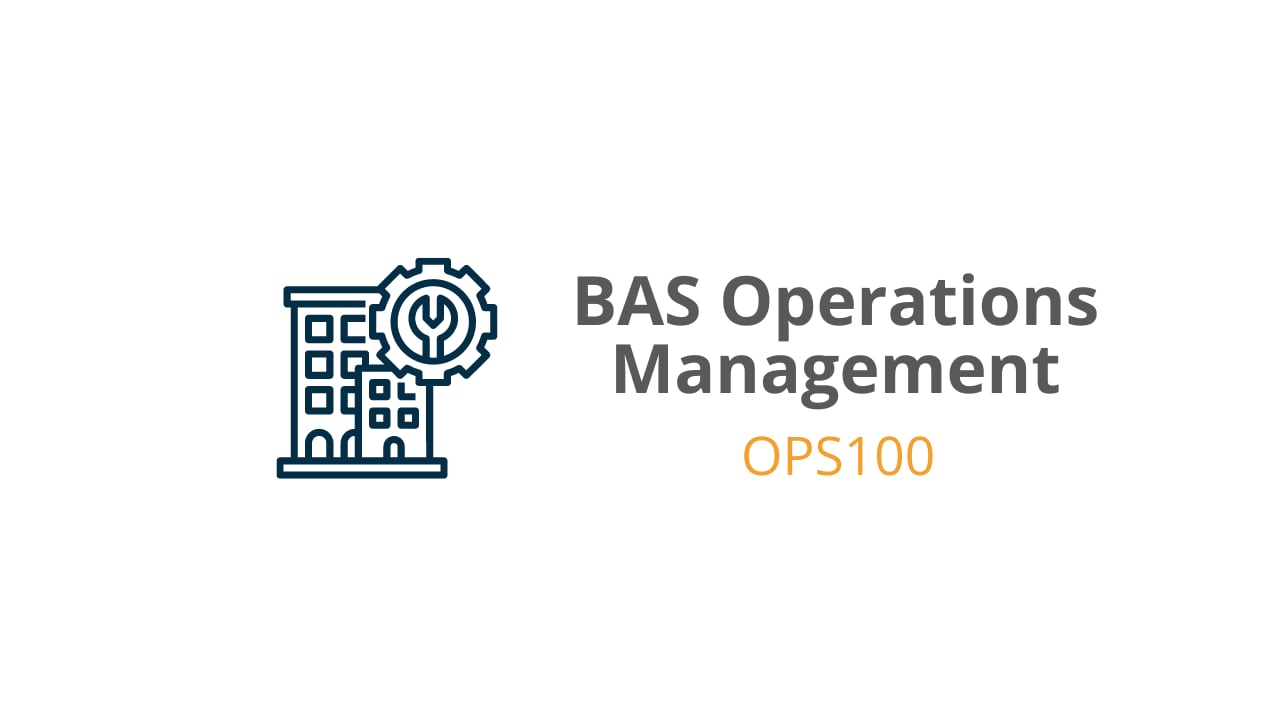 Explore all BAS Operations Management - OPS100 images and videos
View Gallery