Building Automation Systems A to Z - BAS001
Building Automation Systems A to Z (BAS001) is designed to educate you on all facets of Building Automation Systems. If you are new to the industry or simply want to brush up on all things Building Automation, this program is for you.
Details
Building Automation Systems A to Z (BAS001) is designed to educate you on all facets of Building Automation Systems. If you are new to the industry or simply want to brush up on all things Building Automation, this program is for you. 
Course Details:
Fully online and self-paced
Overall course length is 20 hours and 7 minutes
Unabridged audio-book and e-book.
Access to all course material for (1) one full year
Audience
This course is targeted towards new salespersons, technicians, designers, operators, consulting engineers, and project managers. This course provides the foundational knowledge for all of our other courses.
Pre-requisite knowledge
None
Additional Materials Required: NONE
Objectives
Provide a comprehensive reference guide for all things building automation
Understand all aspects of building automation systems
Learn the core knowledge you need to succeed in the field of building automation
Key Topics
This course will help you to develop the foundational knowledge to work in and on building automation systems. The key topics covered in this course are:
Develop the fundamental understanding of Heating, Ventilation, and Air Conditioning (HVAC) needed to support your BAS knowledge
Gain the foundational awareness of building automation that is required of every building automation professional
Become a smart buildings expert by gaining a solid understanding of the different types of smart buildings systems and how they work
Make your conversations with information technology (IT) painless by learning the common IT terms, parts, and processes
Explore the subjects of electricity and energy management and discover how they impact building automation systems.
Demystify the procurement process, learn how to work with procurement during the different phases of the process, and learn how to deal with cost segmentation and value-engineering
Discover how the construction process works and what the involvement of the building automation professional is during the different parts of the construction process
Tackle the most difficult BAS project there is (upgrading a BAS) with my step-by-step process and learn when you do and (more importantly) when you don't need to upgrade your BAS
Create a solid management program for a buildings automation system and learn how to create standards for your future building automation systems
Gain a solid understanding of what managed service providers (MSP) are, the pros and cons of the different types of maintenance, and how to maintain a building automation system
How to build your own knowledge program and how to use financial metrics to define the success of your building automation efforts
Learn the difference between analytics and trends, what analytics are, how they work, and when they are right for a building
Learn what the Internet of Things (IoT) is and how it is impacting the world of building automation
Learn the basics of systems integration, what the three types of integration are, and when to perform each type of integration
Successful completion will require:
Viewing all lesson videos in their entirety
** No Certificate of Completion or CEUs are offered for this course.
Student Testimonial
​"This is THE program to either get you started in the world of controls or to further your education and understanding of principle concepts."
-Joe Baucum
"Great, essential content presented in an easy to digest manner."
-Paul Gessler, Controls Engineer, kW Mission Critical Engineering
Course Benefits
Learn at your own pace
Fully online
Access to all course material for (1) one full year
Licensing
All sales are final and non-refundable. All licenses are for one (1) individual and are non-transferable without the express written permission of Smart Buildings Academy, LLC. Invoices are to be paid within 10 days (NET 10) of receipt. Course enrollments are for one (1) year unless otherwise specified.
Requirements
If there are technical problems with our systems, please contact our support team at support@smartbuildingsacademy.com for assistance.
If there are technical problems with your computer or Internet connectivity, we are unable to assist you..
It is the student's responsibility to be technologically capable of taking an online course, i.e. you should be computer literate and Internet experienced.
Since your course will be accessed through your computer and Internet connection, it is important that you have the proper computer configuration. Outlined below are the basic technical requirements (minimum and recommended) for participation in an online course.
Some online courses will have additional technical requirements - please check the individual course link (see course schedule) or contact the instructor for details.
Moodle Technical Requirements
Moodle is compatible with most modern PCs and Macs, and many Mobile devices as well. The most important thing to ensure compatibility is that you keep your browser updated.
PCs and Macs
For PCs and Macs, Moodle recommends using the newest version available of the following browsers:
Chrome – download here
Firefox – download here
Cookies and JavaScript must be enabled in your browser for Moodle to function properly.
Mobile Devices 
For mobile devices it is recommended to use your device's native browser. Also, when accessing Moodle from a Mobile device, keep in mind that some features may not function correctly. It is not advised to take exams or quizzes or to submit homework from a mobile device.
You can not add the review on this product as you have not purchased this product yet.
Question: Question: How long do I have access to the course?
Answer:
Upon receiving your login credentials, you have 365 days of access to the course. 
Question: Question: What happens after I purchase the course?
Answer:
Upon registering for one of our training programs our support team will contact you to setup your training account.  
Once you are in the course you will find a guided course workbook that will guide you through the lessons.  
You will have access to online forums and weekly office hours during which you can ask questions of your instructor. 
To earn your course certificate, you will need to view all lessons, complete module quizzes, and the final course exam. 
Question: Question: How do I get help if I don't understand something?
Answer:
If you have any technical challenges with our course, you can contact our technical support team via the contact information you will receive when you receive your welcome email.  
 
If you have questions related to what you are learning in the course. You can use our course forums, where we will respond within 24 business hours or via our live instructor led office hours, which occur 3 days a week. 
0

% response rate,

0

-mins response time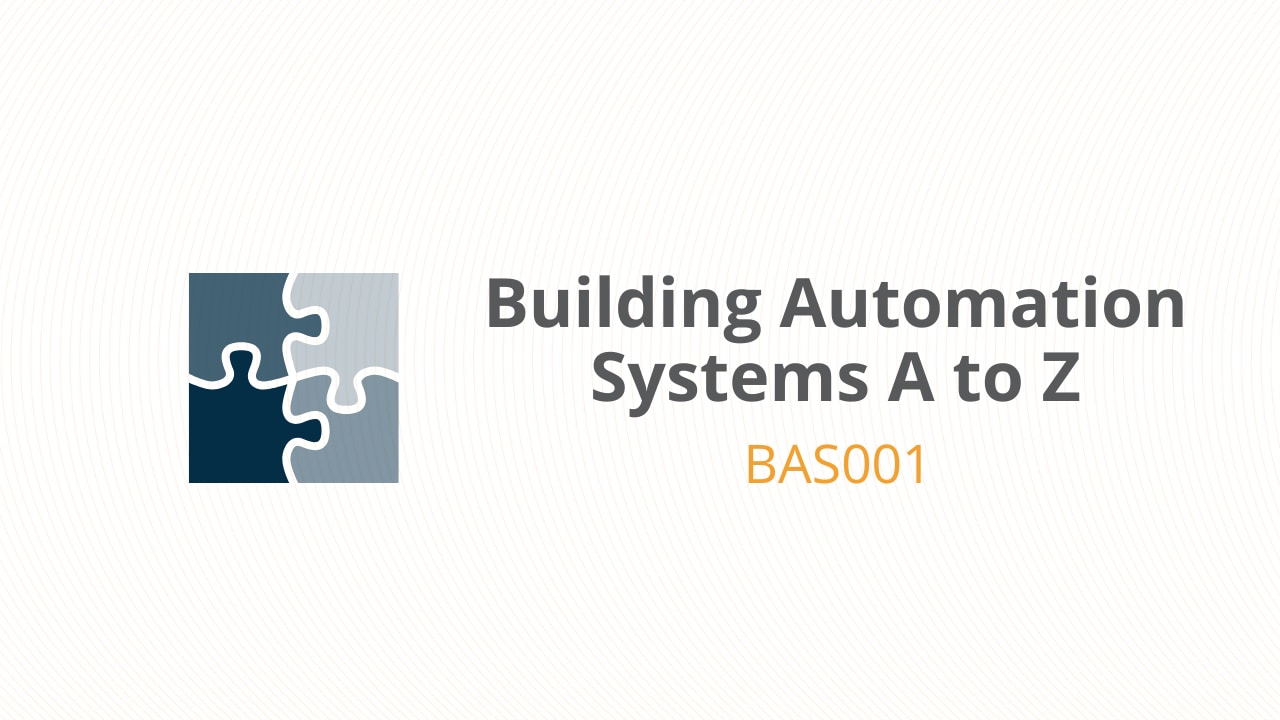 Explore all Building Automation Systems A to Z - BAS001 images and videos
View Gallery