Standard Motor Interface (SMI) Driver
The driver allows Tridium JACE to control and monitor Standard Motor Interface (SMI) drives for roller shutters, venetian blinds and sun protection devices via RS-485 port or IP interface.
Price
$1,605.00

-

$3,687.00
Details
SMI or Standard Motor Interface is a protocol for electric drives used for sun protection devices: shutters, roller blinds, awnings, exterior and interior venetian blinds, pleated blinds, roman shades. For blinds and shutters SMI is the same, as DALI is for lights. Same as DALI, SMI allows to combine products of various manufacturers and to use open standard technology.
SMI driver for Niagara can be deployed in any Niagara-compatible embedded device like Tridium JACE8000, Honeywell WEB8000, Distech Controls EC-BOS-8, Johnson Controls FX80 etc. Niagara device connects via RS-485 port to one to sixteen SMI RS-485 interfaces, each of which communicates with up to 16 SMI motors. This allows to control and monitor up to 256 motors per RS-485 port.
SMI driver for Niagara allows to discover all connected serial interfaces and SMI motors, periodically read motor points, send commands to an individual motor or multiple motors at once. In addition, SMI driver allows to initiate motor auto-addressing to resolve address conflicts and manually change motor SMI addresses.
Key features:
• Up to 16 drives can be wired and controlled in parallel
• A single five-wire line is used for power and communication
• High-precision intermediate positioning
• Query current motor positions
• Motor feedback with diagnostic information
Product SKU
nm-Standard Motor Interface (SMI) Driver
Versions
Niagara-powered device with software v3.8 (AX), v4.1 (N4) or later, including Jace8000, Supervisor or their OEM versions
Licensing
SMI for Jace 8000 / 1 device (up to 16 motors) SMI for Jace 8000 / 5 device (up to 80 motors) SMI for Jace 8000 / unlimited device (unlimited motors)
You can not add the review on this product as you have not purchased this product yet.
| Versions | Price |
| --- | --- |
| Standard Motor Interface (SMI) Driver-JACE-1 | $1,605.00 |
| Standard Motor Interface (SMI) Driver-JACE-Unlimited | $2,716.00 |
| Standard Motor Interface (SMI) Driver-JACE-5 | $3,687.00 |
0

% response rate,

0

-mins response time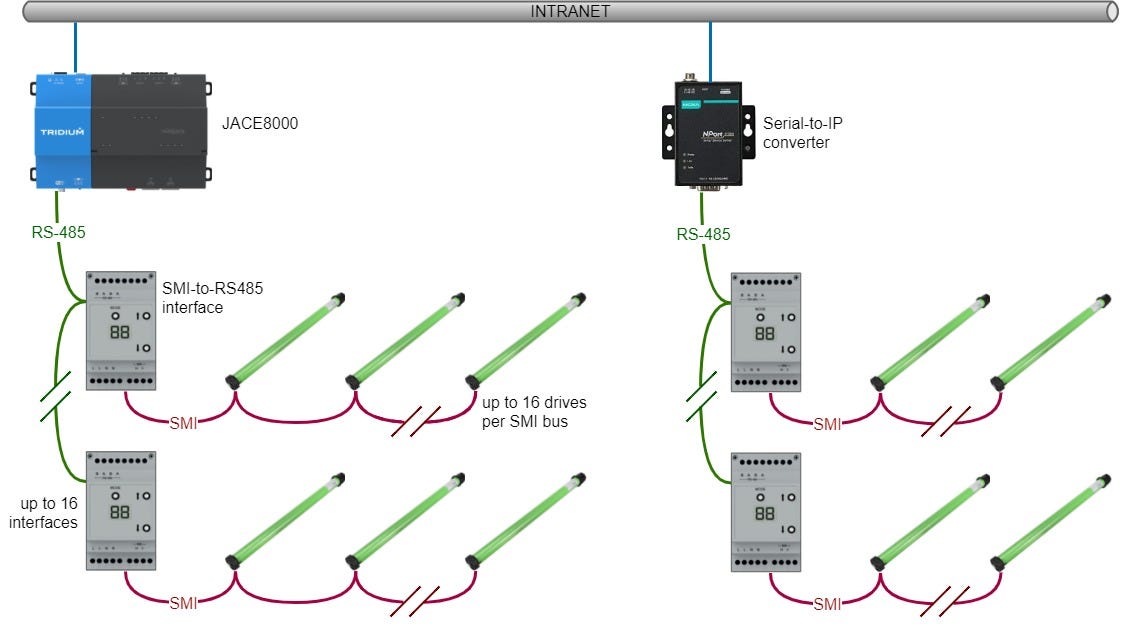 Explore all Standard Motor Interface (SMI) Driver images and videos
View Gallery